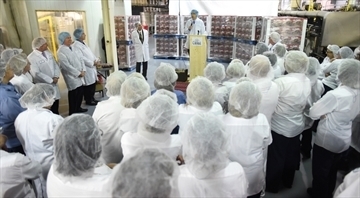 Colonial Cookies, a plant that had fallen into receivership and seemed doomed just three years ago, is making a comeback.
Nearly 200 full- and part-time people work at the plant on Otonabee Drive now, and Colonial Cookies announced Wednesday that it is adding a $12-million cookie line that will allow it to nearly triple its current production and add even more jobs.
The investment is happening with the assistance of a $1-million contribution from the Ontario government's Southwestern Ontario Development Fund.
Canada's Technology Triangle Inc.'s insight:
The company is installing equipment to expand its line of "thaw and sell" soft-baked cookies, expecting to add at least another 25 jobs. The new line is expected be installed by this fall. "The plant is doing very well and is very productive, and will be even more productive when we install this fifth line," said Geoffrey Wilson, senior vice-president of financial control and investor relations for George Weston Ltd., the company that bought the business in February 20
See on www.techtriangle.ca