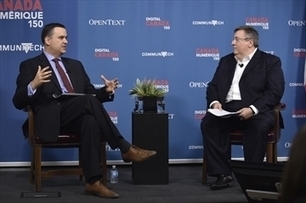 The federal government's multimillion-dollar strategy to support the digital economy was unveiled Friday in Waterloo at the country's biggest software company — Open Text Corp.
Canada's Technology Triangle Inc.'s insight:
BlackBerry-RIM, Open Text, Communitech, University of Waterloo, the legacy here is great," Moore said.
Moore said there is no question some of the money will flow into Waterloo Region because of the critical mass of technology talent here.
"There is more money coming, more investment," Moore said of this region.
See on www.therecord.com