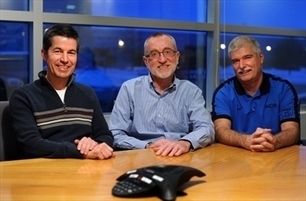 Computers that people used in offices back in 1988 — clunky grey-white terminals that would take forever to boot up and often had "green screen" monitors connected to a mainframe somewhere — are now in the dustbin of history.
That year, Brad Bell, a graduate of the University of Waterloo, had written some office administration software for a nursing home in the Owen Sound area.
As the project evolved into developing similar software for other nursing homes, Grant Roberts, also a UW grad who knew Bell because he hired him during a co-op term at another company, took an interest in the project.
In December 1988, Roberts and Bell formed a software company called Campana Systems Inc. in a small shared office space. Roberts, the company's president, and Bell, the chief technology officer, were soon joined by a third partner, Jim Hardy, vice-president of systems.
A lot has changed in 25 years
Canada's Technology Triangle Inc.'s insight:
Campana continues to focus on innovation. A pilot project this year involves the development of a "family portal" for children's treatment centres to let families log into the portal and see the latest note from the therapist about a child's progress.
Eventually, parents might be able to contribute to the chart, since they know their child better than anyone, Bell said. Similarly, nursing homes might become interested in that type of a product for families that want to access information about the care of a parent.
There are numerous still-to-be-explored opportunities, Roberts added. "In health care, there is a big gap between what can be done and what is currently being done."
Campana has been successful because it has been able to stay ahead of changes, Roberts said. "We don't rest on our laurels. We keep reinventing ourselves
See on m.therecord.com