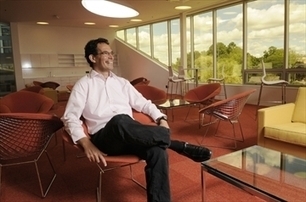 From startups to smartphones, Waterloo Region's reputation as a technology hub is well known. But what about that other burgeoning hub here, the one built around the invisible quantum world?
Tech Triangle's insight:
Hosted by Canada's Technology Triangle, the not-for-profit agency that promotes investment in Waterloo Region, the gathering will learn about Perimeter's efforts to lay the groundwork for new technologies that manipulate the building blocks of matter.
John G. Jung, chief executive of Canada's Technology Triangle, says there's growing international interest in Perimeter, the Institute for Quantum Computing and the concept of a Quantum Valley pursued by BlackBerry co-founder Mike Lazaridis.
The 5th Annual International Reception and Dinner will include ambassadors and consuls general from about two dozen countries, and more than three hundred other guests.
Earlier in the day, the foreign diplomats will get tours of some of the region's institutions, including Centre for International Governance Innovation and Conestoga College, Jung said.
There are still individual tickets left for the $190-a-seat dinner. For more information, visit the events page at www.techtriangle.ca.
See on www.therecord.com