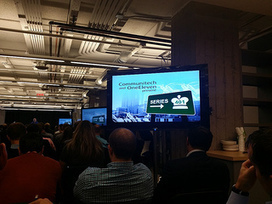 CEO of OMERS Ventures, Ruffolo kicked off an event last week called Series 401 which showcased sixteen of the top tech companies along the 401 corridor: GTA and Waterloo Region.
Series 401 is a partnership between Kitchener-Waterloo's Communitech and Toronto's OneEleven, a new tech hub created by OMERS Ventures.
Tech Triangle's insight:
For Ruffolo, the success and failure of innovation in this country is rooted in how well Toronto and Kitchener-Waterloo do within this area. And strengthening these two nodes will start to impact other areas of the country.
Kitchener-Waterloo has done well with clustering over the past couple of years. Communitech, which started in 1997, is now a tech cluster of nearly 1,000 companies that generates more than $30 billion in annual revenue.
See on www.techvibes.com