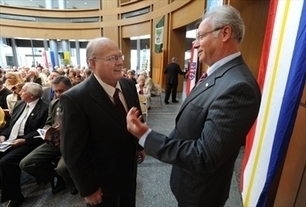 A builder, a businessman and a band were all honoured Tuesday for their contributions to Waterloo Region.
Ron Schlegel, Joerg Stieber, the Preston Scout House Band and its founder, the late Wilf Blum, were recognized during the 14th annual German Pioneers Day celebration held at Kitchener City Hall.
The event pays tribute to those of German descent, past and present, who helped to lay the foundations for the region and continue to build it today.
Tech Triangle's insight:
"We look at the German contribution to the Canadian canvas," said Walter Stechel, the Toronto-based consul general of the Federal Republic of Germany. "They contribute colour, strength and texture."
See on www.therecord.com