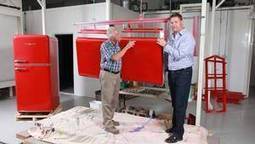 A small Canadian manufacturer remains profitable with its focus on custom-made retro-style products
Tech Triangle's insight:
Appliance manufacturing has all but disappeared from Canada, a victim of the high Canadian dollar and outsourcing, but it's going strong in tiny Elmira, Ontario, north of Waterloo. That's where Elmira Stove Works assembles stoves, refrigerators and microwaves, destined primarily for the United States. Vice-president Brian Hendrick says his company has remained profitable through the economy's slow recovery, though annual sales of about $5-million had been flat until recently. The prospect of a lower Canadian dollar makes him happy, but "we need to make our business as efficient as possible in these conditions," he says.
See on www.theglobeandmail.com