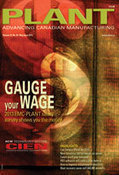 COM DEV International Ltd. has been awarded an Authorization to Proceed (ATP) contract to deliver Ku-band multiplexers, switches and microwave components. Initial funding is valued at $1 million to cover initial procurement activities.
Tech Triangle's insight:
The full contract award is expected by the end of August and will have a value in excess of $5 million. Work on the contract will be carried out at the company's facility in Cambridge, Ont. with completion expected by July 2014.
The components will be used on a high-power communications satellite that will be added to an existing constellation as a result of significant growth in digital communication demand in the region covered.
See on www.canadianmanufacturing.com