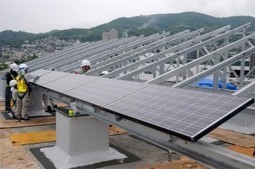 Now the world's largest solar market.
Policy change has since sparked a solar boom, setting up Japan to surpass Germany as the world's largest photovoltaics market by revenue this year, with sales nearly doubling to $20 billion, according to an IHS report.
Last year, Japan implemented a feed-in tariff, which promises solar producers a subsidized price, at twice the going rate in Germany and France.
Canadian Solar Inc., based in Guelph, Ont., has already taken advantage of the trend, increasing its first-quarter shipments to Japan by 75% over the previous quarter
Tech Triangle's insight:
75% Quarter-over-quarter increase in sales to Japan reported by Canadian Solar Inc., based in Guelph, Ont
See on www.canadianbusiness.com