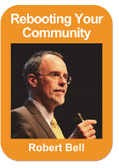 The question was prompted by a March visit to Stratford, Ontario, Canada. I went there because this city of 32,000 was named as Top7 Intelligent Community for the third year in a row, and it was my turn to conduct the site inspection. I went looking to see what was different: what program they had made on very ambitious goals announced three years before.
Back in 2011, Stratford was talking about decisions by its municipal electric utility, Festival Hydro, to build an open-access fiber network and spin it out as a separate business called Rhyzome Networks. The network aimed to ensure that business had the advanced communications infrastructure it needed, while providing the backbone for the utility's smart-grid project. But there was a much greater ambition in the background. The open access network had the potential to make the Stratford area much more attractive to competitive service providers by offering them a ready-made backbone for hire. In a small city surrounded by farmland, they could offer big improvements in speed and price.
In March, I met Tom Sullivan, CEO of Wightman Telecom, a well-regarded rural telecom operator with its own fiber network. He had done a deal with the city to deliver broadband to businesses and residents over the Rhyzome network, and to begin building out from Rhyzome POPs to provide fiber to the premises at 1 Gbps throughout Stratford. It has hard to imagine any other scenario that would bring "ultrabroadband" to such a place.
In 2011, Stratford had just completed a memorandum of understanding with the University of Waterloo – located about 90 minutes away – to create a Stratford campus specializing in business and digital arts. It represented a big coup: a small city finding a way to bring a prestigious and effective higher-educational institution right into the center of town. But at that point, it was little more than a handshake and a press release.
In 2013, I visited the new building that houses the University of Waterloo Stratford and saw the early stages of an exciting vision being fulfilled. The curriculum brings together students focused on engineering, arts and business to explore how digital media will transform them all. The nearby Stratford Accelerator Centre offers a place to take that exploration one step farther. So in three years, the city has reproduced at small scale the innovation triangle of education, business and government collaboration that powers economic growth worldwide.
Click headline to read more–
See on www.digitalcommunities.com